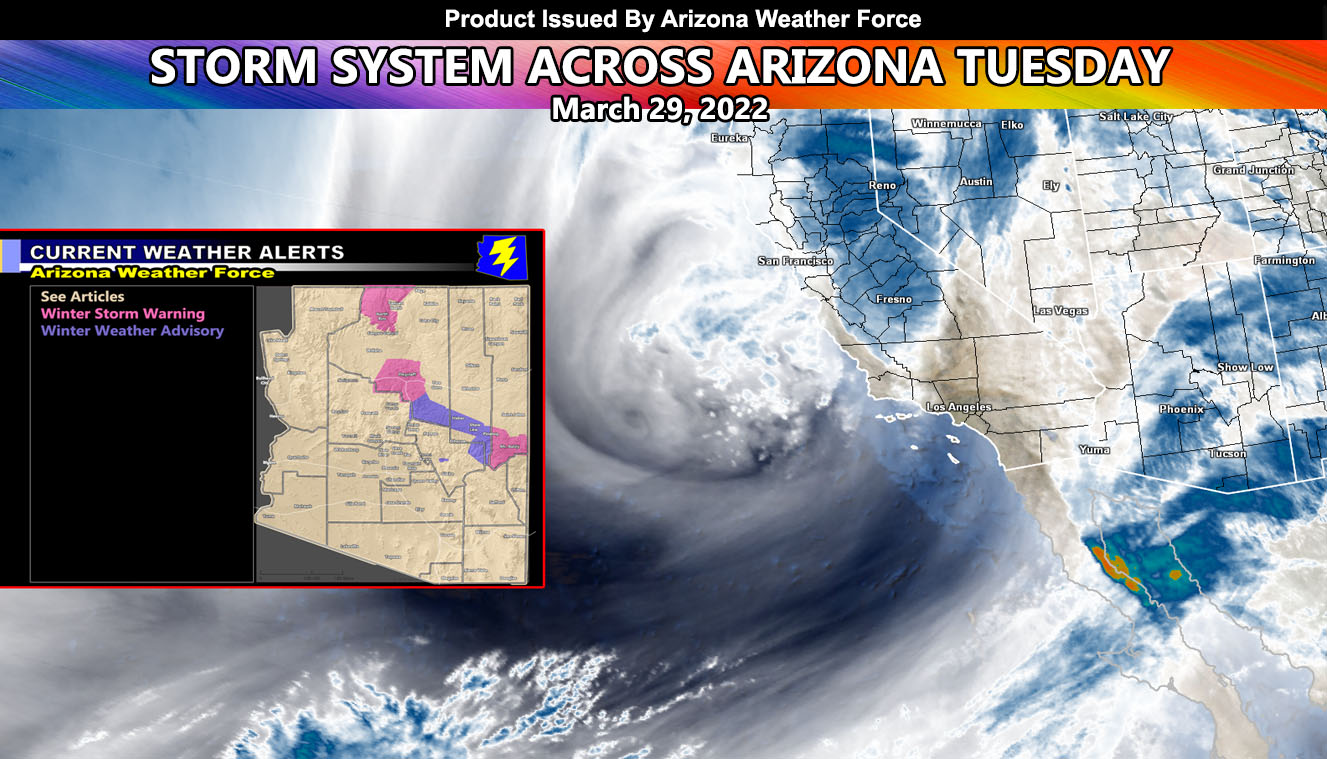 A powerful storm system slamming Southern California is set to moving through Arizona mostly on your Tuesday, some areas starting as early as this evening with thunderstorms so read on for details …
While the official Thunderstorm Watches are not out, thunderstorms will be expected later tonight for the northwest half of Arizona, having come out of the Needles, California forecast area.  These cells will have the dynamics for thunderstorms and they will move overnight when most are sleeping and into early Tuesday morning for Flagstaff and Prescott, aiding to thunder to be heard.  Snow levels will warrant the Mogollon Rim having heavy snow in spots, the lowest being Show Low and Pinetop due to unfavorable wind flow and the highest snowfall rates for a metro will be the Flagstaff areas, non metro will be Mt. Baldy … and of course always the winner at over an 11,000 FT elevation.
Tuesday early morning will start the group of storms and dynamics moving through the Phoenix areas and then eventually into Tucson.  Instability will be present for thunderstorms there as well.  The main focus however will be (and my first forecast by click here) Pinal County … Somewhere around there is where the highest dynamics for thunderstorms on Tuesday will be possible, owning to strong winds, large hail, and maybe even a tornado …  This will be addressed in future outlooks but for now use the rain and snow models below for your area …
2022 Monsoon Season Preliminary Outlook – With a calming La Nina and going into neither La Nina or El Nino, I expect yet again an above average Hurricane Season in the Pacific Ocean, which translates the real possibility that the Monsoon will once again be above average … The final outlook will be given toward June, but you have your pre-outlook and may very well have a similar season to last year if the trends continue …
---
The following articles pertained to the analysis and prediction of this forecast …
March 24, 2022
Storm System To Move Across Arizona Monday Evening Through Tuesday; First Outlook
---
Below are the AZWF models in the form of rain, snow, and wind, snow-levels, or whatever is available for this forecast. They are clickable. Image 1 is NW AZ, 2 is NE AZ, 3 is SW AZ, and 4 is SE AZ –
GET TO KNOW YOUR MAP BECAUSE THESE NEVER CHANGE LOCATIONS
Rain Model – Valid Through March 29, 2022 – PREMIUM MEMBERS CLICK HERE FOR YOUR GPS MODELS IN THE MEMBER SECTION
---
Snow Model – Valid Through March 29, 2022 – PREMIUM MEMBERS CLICK HERE FOR YOUR GPS MODELS IN THE MEMBER SECTION

---
If you are NOT receiving the e-mails and are a full member, your account is either expired or you need to troubleshoot.  To troubleshoot, here is the link to get situated.
NOTE:  You also get e-mailed alerts/articles because if you do not want to miss my social media posts, and/or I issue a product not on my social media accounts, being a supporting website member is the way to go.  You get your own control panel with hundreds of zones to choose from to receive my custom alerts from.  Click here if you are interested in reading more.  
---
MAIN WEBSITE:  Don't forget.  If you hear rain or anything is coming to the area.  BOOKMARK THE MAIN WEBSITE BY CLICKING HERE. The stream has the latest alert links, a map of alerts and where, and articles.  That is 100% free to view.  There should be no reason you shouldn't be informed.
As always, stay tuned to Arizona Weather Force for official forecasts and updates on weather across Arizona and if it says 'like page' below, hit the button and get future updates.  If it says liked, don't hit it because that's unfollowing and you won't get updates at AZWF page on your feed