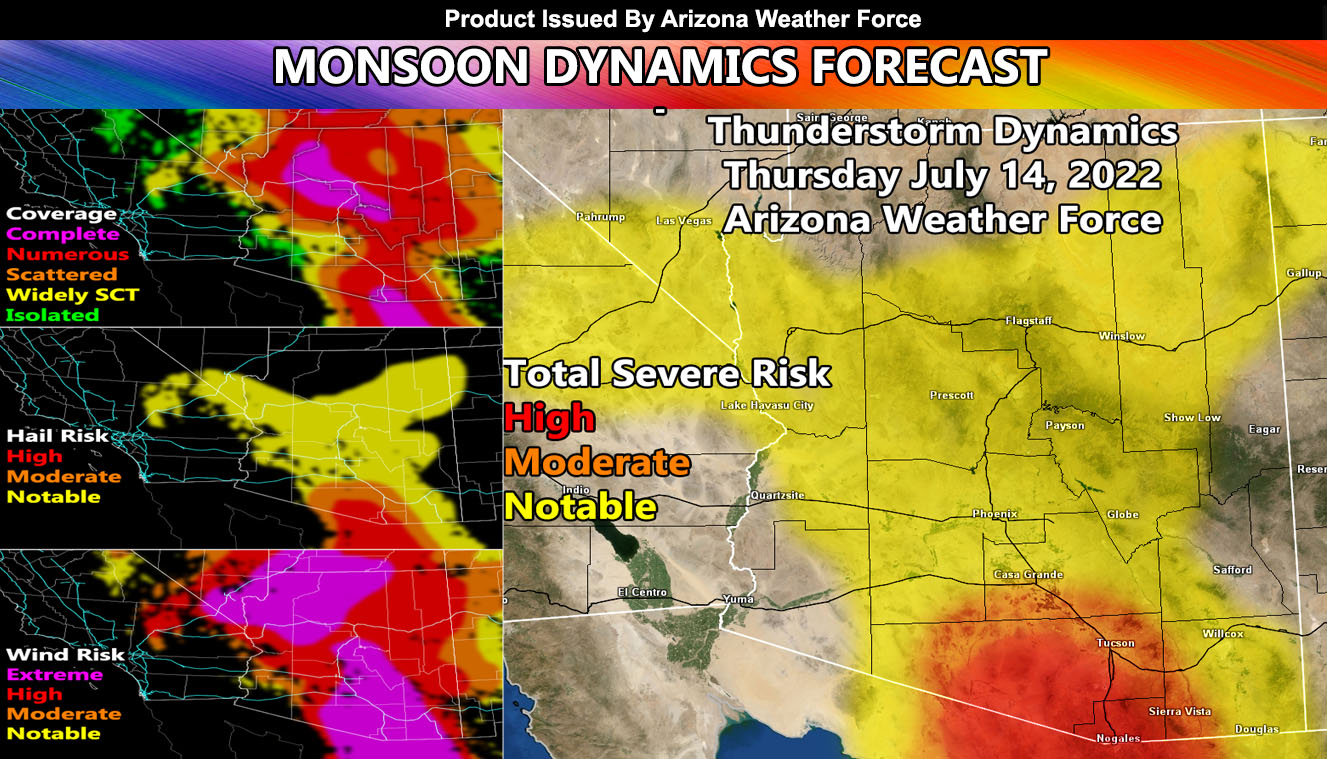 Arizona Weather Force has issued a Severe Thunderstorm Watch for Southern Arizona, including the Tucson Metro zones along with a larger Thunderstorm Watch for the rest of the metro zones from Maricopa County to Flagstaff and even all the way to the Northern half of the Colorado River Valley, including Hoover Dam so read on for details and see the AZWF Monsoon Forecast Models for storm coverage, hail risk, and wind risk …
Join the Facebook Page for Further Updates If You Have Not Yet!
ARIZONA WEATHER FORCE MAIN:
Storms that hit the Eastern Maricopa County metro areas yesterday evening and overnight last night will bring a bit less activity today due to how the atmosphere was worked up, but you could see the outflow pop-ups later on.  The focus in this county will be with severe thunderstorms hitting Tucson's forecast areas directly, which will send outflow boundaries west to northwest through Gila Bend and activate the zones in Western Maricopa County where storms were not the other day.
Storms are already exploding across the Mogollon Rim so as always so there really is nothing new to talk about, you'll have daily storms here on out for a long while as the monsoon really keeps kicking in with the established ridge.
Back over at Southern California Weather Force I have issued a thunderstorm watch for the Las Vegas Metro, meaning the dynamics have reached that far west for storms, so the Hoover Dam and Bullhead City areas could see them as well.
Southwest Arizona, sorry again … but I will be watching Friday night into Saturday for updates there …
LONG RANGE:  We remain in the grip of the monsoon ridge as the 2022 Monsoon is just getting established.  Anyone saying it is weak so far needs to not do so on my pages because it is still considered EARLY SEASON …
STRONGEST ZONES FOR THIS EVENT: Flagstaff, Tucson, and the Grand Canyon
WEAKEST ZONES FOR THIS EVENT:  Parker, Yuma, and Fountain Hills
Here is the official AZWF Alert Map for today's article – The image is clickable –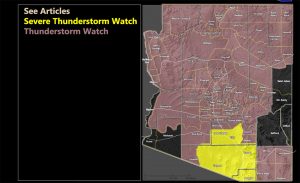 Here are the AZWF models for this event, which will go from today into sunrise Friday…
This was a follow-up to the following articles – You can read them and see how this forecast is evolving from Day 1.
July 7, 2022
Strong Monsoon Moisture Flow to Return to Metro Desert Southwest for Middle Week of July 11th Onward
June 1, 2022
FINAL MONSOON FORECAST: Southwestern United States Monsoon Forecast Finalized as Stronger Than Normal; FREE Memberships Now Open
---
Want these delivered to your e-mail and also the many other alerts for your area that area custom forecast for that you won't see elsewhere?  Sign-up for your free community paid for memberships for this season by going to this link – follow the terms of service directions as well –  – https://arizonaweatherforce.com/?/register/BKNmp3
TWITTER:  Join the AZWF Twitter For Articles By Clicking Here