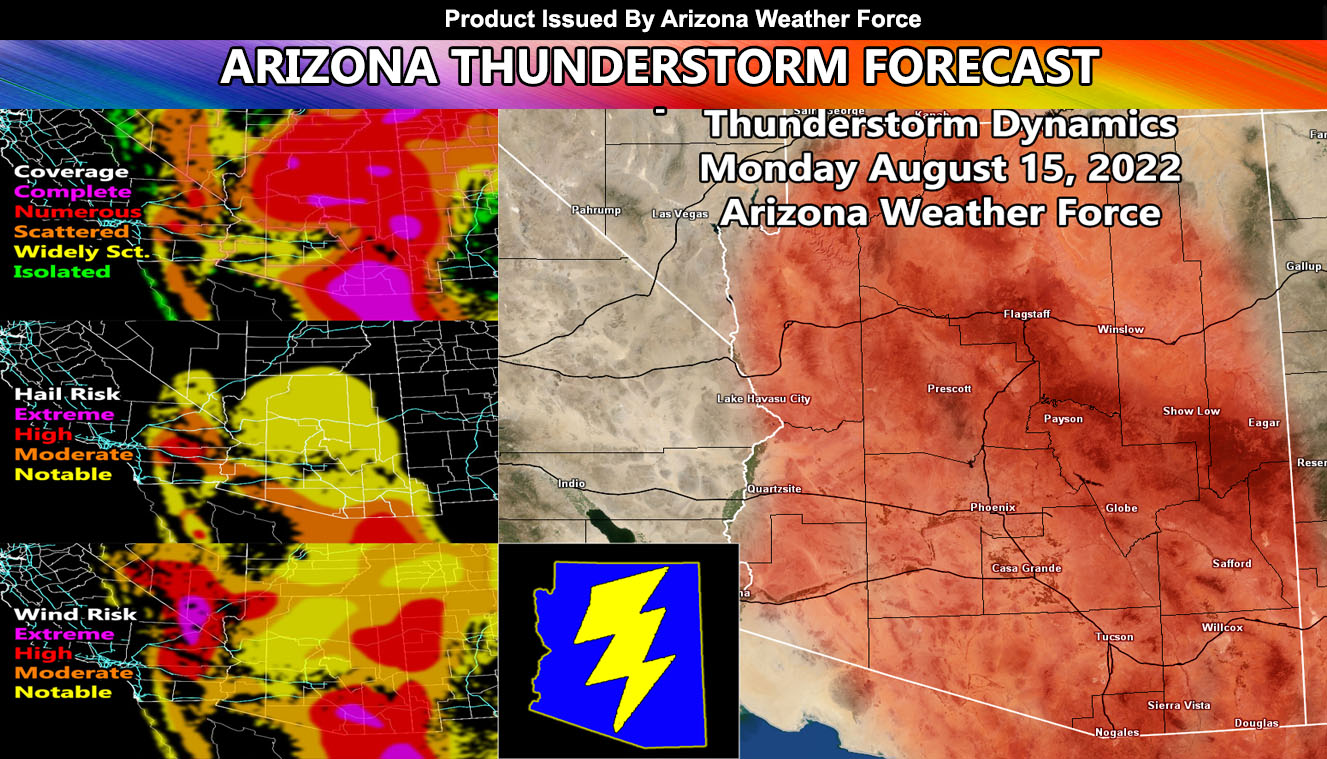 Arizona Weather Force has issued three alerts for this article, Severe Thunderstorm Watch, Thunderstorm Watch, and Weather Advisory effective now through tonight so read on for details and also see the AZWF coverage, hail, wind models inside …
Join the Facebook Page for Further Updates If You Have Not Yet!
ARIZONA WEATHER FORCE MAIN:
Storms will form over the high terrain once again with outflow boundaries showing southward into the lower elevations. There really is not a focus spot other than Southeast Arizona from Cochise to Santa Cruz County but what I can tell you is that flooding will also hit the Flagstaff forecast zones and coverage along the Colorado River Valley is less than yesterday but not out of the cards.
Also, less than yesterday will be Maricopa/Pinal County.  Use the maps below to see what areas of the county is covered in what.  The best chance is the Western side of the county with the most coverage, but I cannot rule out activity near the Phoenix areas again.  Again, the maps below have the interstates and counties covered in which as it pretty much is high resolution.  Because the coverage will be widely scattered across the county, a weather advisory is fine.  Anyone that does not get storms within the advisory areas will get wind/dust …
Mid-week through the Weekend the monsoon peaks and really ramps up – Click here to read that if you missed it.
LONG RANGE SEPTEMBER 2022 – This is when things will start to get either 'boring' or interesting.  September tends to relax the Northern Jet Stream, and this will bring low pressure systems further toward the California coast.  As this happens, any hurricanes and/or moisture south of the region west of Baja, Mexico will be sucked northward and if intact, it would deliver more rainfall.  I however do not consider it a monsoon pattern as that pattern comes from the southeast and east, not southwest.  Things could get interesting if this is the year for it.  A year like 2019 when Arizona Weather Force was born would mean severe thunderstorms and tornadoes in a dynamic form, non-monsoon related.
Here is the official AZWF Alert Map for today's article – The image is clickable –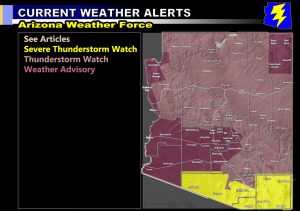 Here are the AZWF models for this event, which will go from today into sunrise Tuesday …
This was a follow-up to the following articles – You can read them and see how this forecast is evolving from Day 1.
June 1, 2022
FINAL MONSOON FORECAST: Southwestern United States Monsoon Forecast Finalized as Stronger Than Normal; FREE Memberships Now Open
---
Want these delivered to your e-mail and also the many other alerts for your area that area custom forecast for that you won't see elsewhere?  Sign-up for your free community paid for memberships for this season by going to this link – follow the terms of service directions as well –  – https://arizonaweatherforce.com/?/register/BKNmp3
TWITTER:  Join the AZWF Twitter For Articles By Clicking Here