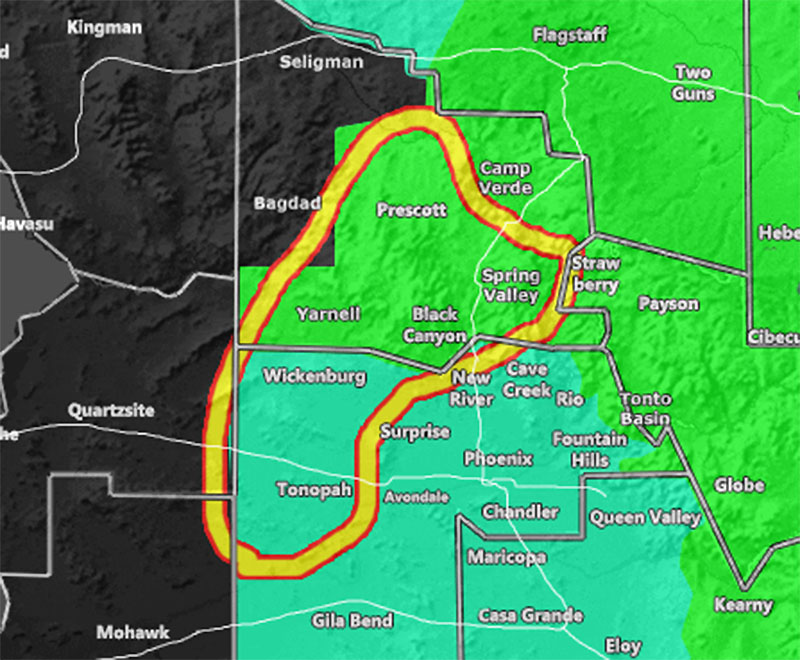 ---
Issued Zones:  Yavapai County within Prescott, Spring Valley, Black Canyon and Yarnell's forecast zones … Maricopa County within the Wickenburg and Tonopah forecast zones …
Site:  Arizona Weather Force has upgraded Yavapai County to a Flood Watch and issue an Urban Flood Advisory for WIckenberg/Tonopah effective later today through Friday morning …
Date:  9/20/22 at 4:30am local
Forecast: Tropical moisture moving through the area this week, starting today, peaking Wednesday and Thursday will be the story on this upgrade.  The Urban Flood Advisory issued yesterday for Yavapai County's zones listed above has been upgraded to a higher alert of Flood Watch.  In addition to this write-up, the further west this mid-level dryline goes through the period has prompted me to ADD the Wickenburg and Tonopah forecast zones to the Urban Flood Advisory where yesterday's update you were not.
The rest of the forecast area, your alerts can be found by clicking here.

A Flood Watch is issued here at Arizona Weather Force when conditions are favorable for the risk of mudslides, especially with ongoing or past fire/burn scars and can produce flash flooding in the elevated areas that will create rock-slides.  This also can put the power out so prepare for the risk of this …
An Urban Flood Advisory is issued here at Arizona Weather Force when conditions are favorable for moderate to sometimes heavy rainfall that can lead to street flooding, which would impact travel due to hydroplaning under slick road conditions.
---
How to get these alerts with a premium supporter subscription via e-mail by micro-climate zone AND/OR Get the GPS models for this event on your device enabled? If you read this from the website or social media links, this option is the best to go so you get them delivered every single time without having to look for them (100 percent delivery time) https://arizonaweatherforce.com/arizona-weather-force-membership/
Join The Main Arizona Weather Force Facebook Group (50 percent delivery time) – You can join the main AZWF page as well through that group.
Click Here To Join The Page Today

---
10 mile rule:  These alerts issued on this site
means that within your zone and 10 miles from you will see the event
forecast for.  You may or may not see the event but it means you are in
the zone or 10 miles from where someone will.
Forecaster: Raiden Storm
MODE