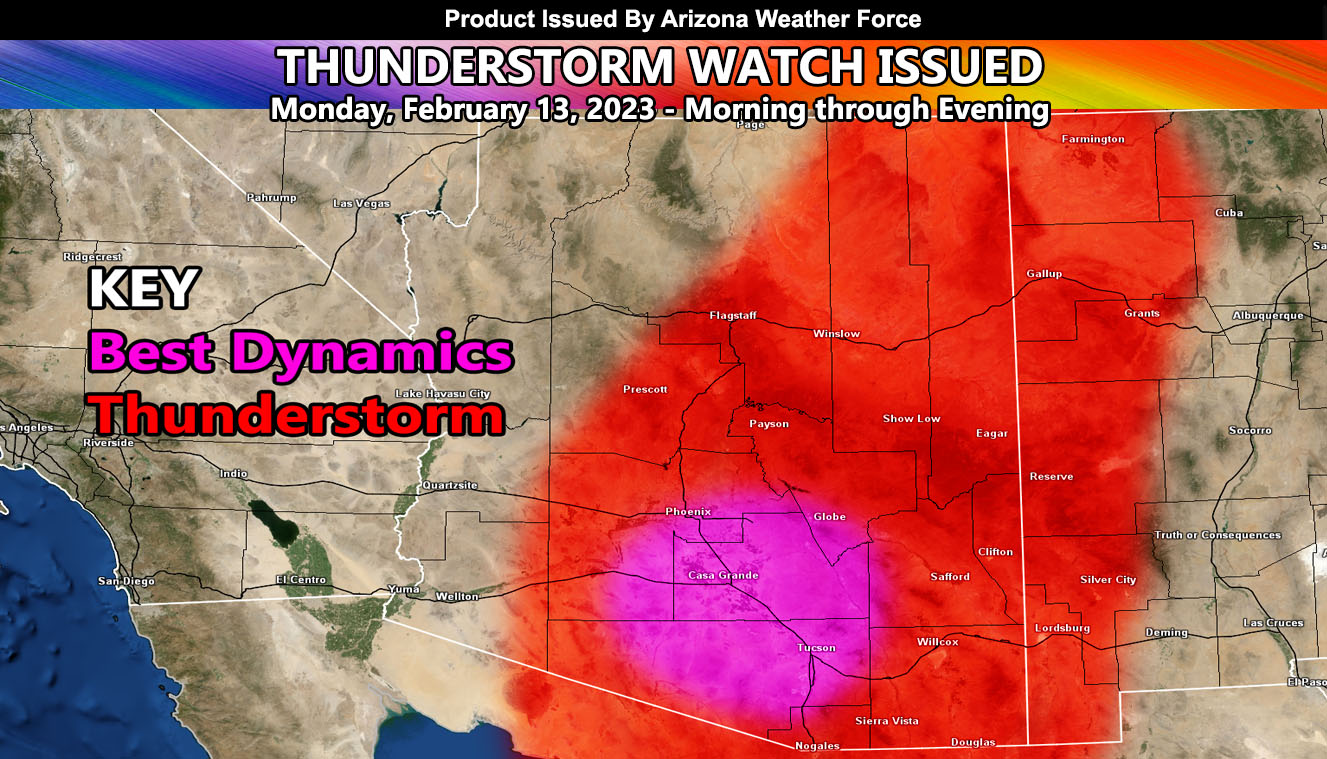 Arizona Weather Force has issued a Thunderstorm Watch effective this morning, until 8pm this evening for two thirds of Arizona from West-Central, Central, and the Eastern half of the state so read on for details …
An upper-level low that brought rainfall to San Diego County yesterday through this morning will move eastward across Arizona today.  This upper-level low is a cold one, and with the higher sun angle, instability parameters will be up as a result.  Thunderstorms will be likely in or around the watch area, with the most lightning being likely in areas of Maricopa, Pinal, and Pima County, which includes Phoenix to Tucson along the I-10 corridor.
Any thunderstorms within the watch area in the Mogollon regions will be met with snow, which means it would be thundersnow.
Because of the cold-core aspect of the system, funnel clouds/small tornadoes, hail, and gusty winds will all be likely with it.
Instability wans down after around 7-8pm as the storm exits to the east.
Additional thunderstorm activity will be monitored later on Tuesday for mainly the northern half of the state, where additional alerts will be likely.  Please remember that on Tuesday a windstorm event will hit most of the state and that article was released here at Arizona Weather Force yesterday and can be viewed by Clicking Here just as these thunderstorm dynamics were predicted using the same article.
---
Join the Facebook Page for Further Updates If You Have Not Yet!
ARIZONA WEATHER FORCE MAIN:
WANT THESE DELIVERED WITH ALL THOSE PERKS INCLUDING BEING ON THE MICRO-CLIMATE ALERT SYSTEM AND MODELS DURING EVENTS BECAUSE NOT EVERY ALERT IS POSTED ON SOCIAL MEDIA FROM THIS WEATHER OFFICE – JOIN TODAY BY CLICKING HERE – Arizona Weather Force Fundraiser and Subscriber System – Arizona Weather Force
TWITTER: Join the AZWF Twitter For Articles By Clicking Here
Join The Main Arizona Weather Force Facebook Group (50 percent delivery time of micro-climate alerts not posted on the main AZWF page) – You can join the main AZWF page as well through that group.
Click Here To Join The Page Today