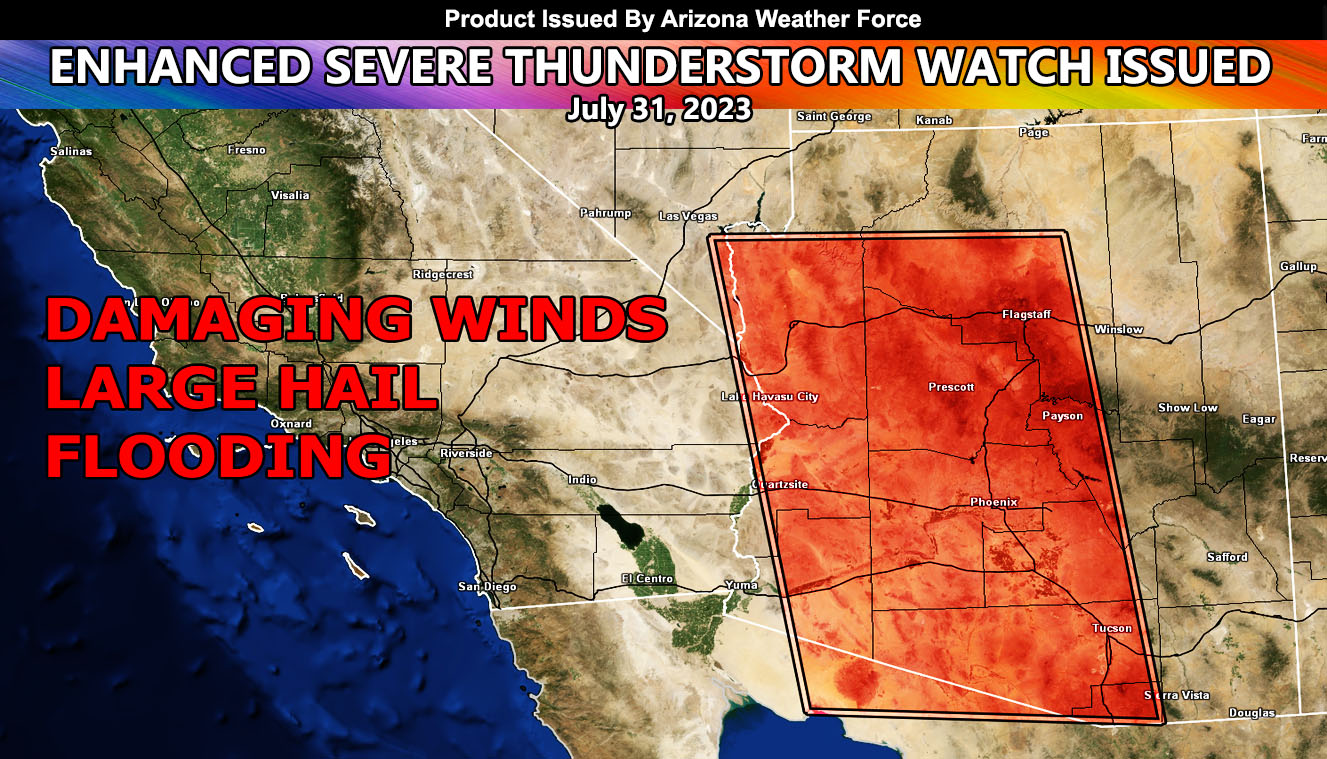 Arizona Weather Force has issued an Enhanced Severe Thunderstorm Watch effective today, until 2am overnight tonight.  The affected areas will be Pima, Pinal, Maricopa, Yavapai, Coconino, La Paz, and Mohave County.
As stated back on July 13th (Reference A Below) we would see a high-risk event in the metro areas.  We have seen these in Tucson, with some Maricopa County as well, however it did not show what the Arizona Weather Force long range advisory assessment would be.  Of course, it will be higher risk across the Colorado River Valley from Havasu/Parker north through Bullhead City and Hoover Dam than the model shows, but never-the-less this will be the Coup De Grace for the advisory period, or the final blow from this inverted trough (Reference B Below).
Storms are expected across the entire Mogollon Rim, starting this afternoon.  Storms will form southeast of Tucson and move northwest, up the I-10 corridor through the metros of Pinal and Maricopa County.  Storms also will form heavily and severe across the Prescott forecast zones.  Outflow from Yavapai County will surge westward and impact the Colorado River communities stated above.
Yuma, you had your storms already and since a dry slot is indicated on satellite, your event is over.
Also, Sierra Vista is just outside of the main watch, but you will have thunderstorms in Cochise County today …
Within and around this watch, expect damaging winds, large hail, and flooding …
Reference A – https://arizonaweatherforce.com/2023/07/13/long-range-weather-advisory-issued-ahead-of-high-risk-monsoonal-influence-includes-arizona-metro-areas/
Reference B – https://arizonaweatherforce.com/2023/07/26/inverted-trough-to-bring-high-risk-thunderstorm-event-to-much-of-arizona-including-the-metros-over-the-weekend/
Get these alerts over the new Android and Iphone app and/or e-mail service by becoming a full member subscriber today and never miss an update from this office.  Remember, you cannot just make an account on the app and get notifications.  You must select your zones and then go through the payment process.
Click here to learn more.