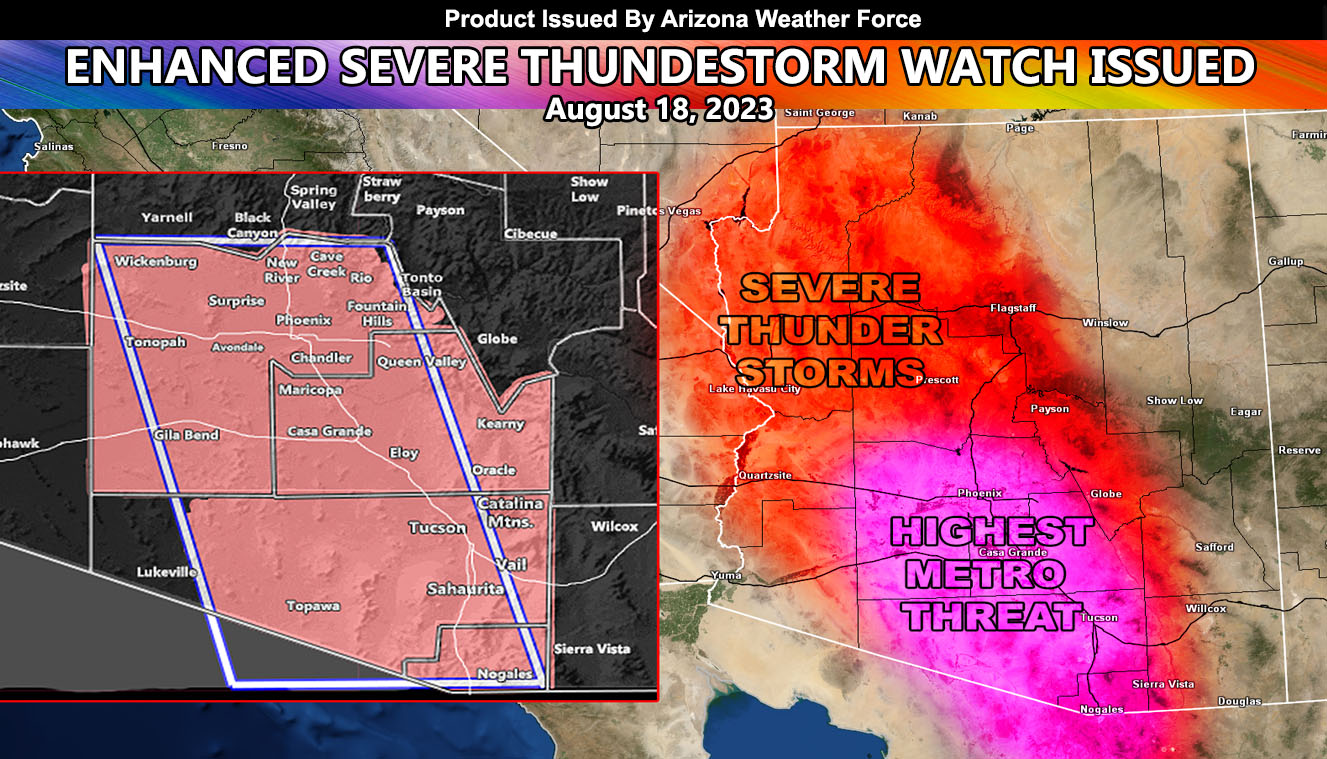 Arizona Weather Force has upgraded part of the Severe Weather Statement issued yesterday (Reference A Below) to an official Enhanced Severe Thunderstorm Watch for Maricopa, Pinal, Pima, and Santa Cruz County, effective this afternoon, evening, and expiring at midnight tonight.
A southeast to northwest flow evident from the storm activity yesterday evening will remain present as Hurricane Hilary's outflow influence from storms in Western Mexico move in.  This will cause an eruption of thunderstorms in the Tucson/Pinal forecast areas and ride up the main upper divergent zone this evening along I-10 for yet another classic I-10 corridor event.  Storms today will contain dust storms ahead of them, damaging winds, large hail at times, torrential downpours, and even the chance of isolated tornado activity.
An Enhanced Severe Thunderstorm Watch means that conditions are favorable for more than 70+ mph wind gusts and large hail within the strongest cells in the watch area and is the final forecast to any Severe Weather Statement zone.
If you are in the Colorado River Valley zones, Western Arizona, or Yavapai areas, you are to remain using Reference A Below).
SATURDAY:  A sweep kick from Hilary's outer band will move across the same areas in this watch, and some of those storms will be stronger, giving even a better tornado risk.  I will be monitoring this ongoing situation closely so stay tuned to Arizona Weather Force.
Remember, my Tropical Storm Warning issued days ago remains in effect for the western half of Arizona (Reference B Below).
---
Reference A – https://arizonaweatherforce.com/2023/08/17/severe-weather-statement-7/
Reference B – https://arizonaweatherforce.com/2023/08/16/imminent-threat-tropical-storm-warning-issued-for-the-western-half-of-arizona-for-the-weekend-of-august-16th-2023/
Master General Meteorologist – Raiden Storm
Get these alerts over the new Android and Iphone app and/or e-mail service by becoming a full member subscriber today and never miss an update from this office.  Remember, you cannot just make an account on the app and get notifications.  You must select your zones and then go through the payment process.
Click here to learn more.