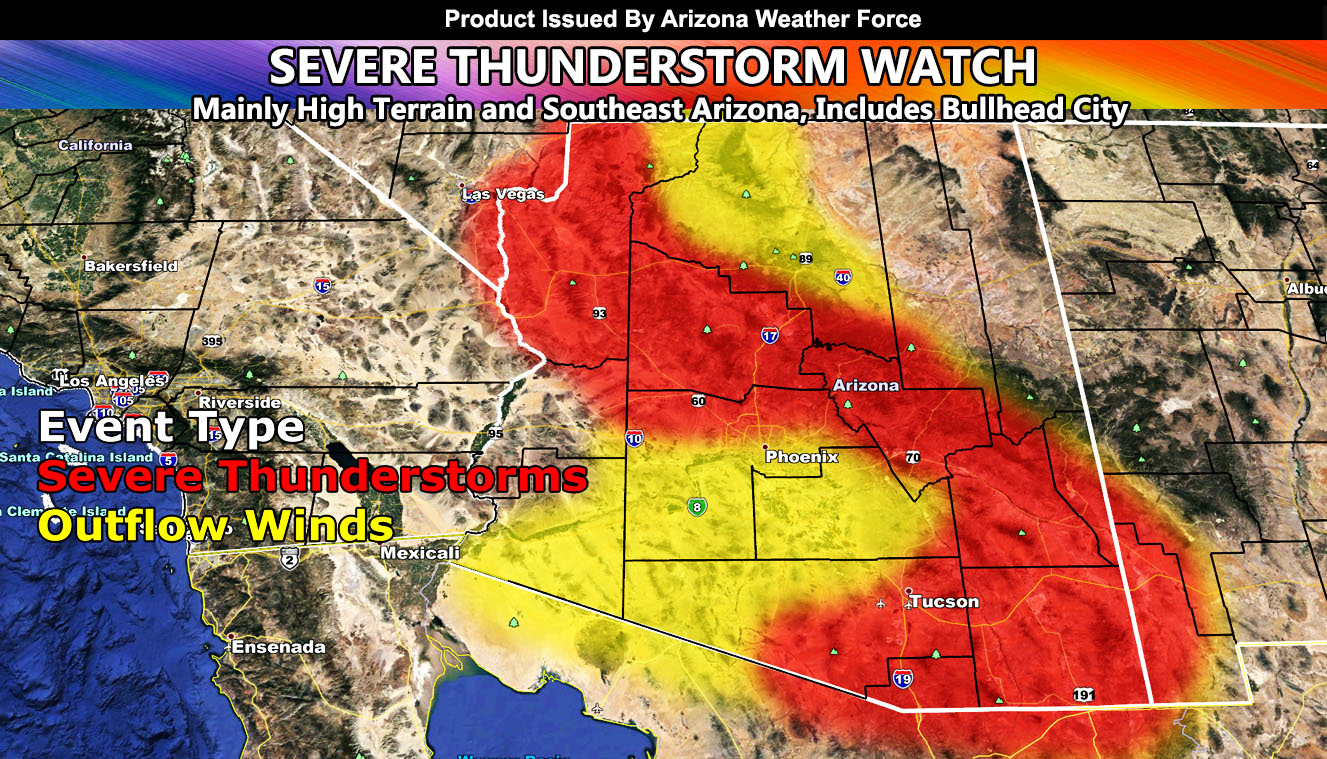 Arizona Weather Force has issued a Severe Thunderstorm Watch to Affect most of the Mogollon Rim, Northwest, and Southeast Arizona effective this afternoon and evening.  Read on for details on the focus spots as it is extremely detailed.
There was not a real focus spot for this event like the other ones.  What will happen is a couple of disturbances rotating around the ridge of high pressure now over California will enhance upper-level lift for severe storms.
Focal Spot One:  This spot will be in Southeastern Arizona.  A disturbance rotating around the ridge of high pressure out of Greenlee County and New Mexico will pop off storms there and the Safford forecast zones.  This will further enhance as it moves down into the hotter surface levels and be the driving force behind what I would call is a Cochise County slam where the entire county will light up with severe storms.  Storms this evening into tonight will be capable of large hail and damaging winds, along with blow dust in spots and torrential downpours.  Furthermore, enhanced low-level shear this evening/night in Santa Cruz County, north to south of Tucson and east to Sierra Vista will make it possible that an isolated tornado would form.  This likely would form at night, thus not be seen.  I've put Tucson in the watch area as well within the western extent, but the main activity will be Cochise County and south to Santa Cruz County.  Still, you are within the watch limits.
Focal Spot Two:  This one will be Prescott's forecast area south to Northern Maricopa County.  Prescott has high instability already this morning.  This, with a disturbance moving in out of the north, will pop severe thunderstorms in your forecast area.  Now, this will likely have supercell characteristics so large hail is very likely with it, well over 1″ in diameter.  The city proper may or may not see it, however, this area's forecast zone will see what I said in this forecast.  This will push southward to Northern Maricopa County along the west/east convergence boundary, down I-17.  This could affect Wickenburg, New River, and Cave Creek with weakening storms, but strong outflow winds.  I've included Northern Maricopa County in the watch due to this reason.
Focal Spot Three:  This is the area of disturbance coming out of Las Vegas for the Northern CO River Valley areas.  For Las Vegas, I issued a Thunderstorm Watch over at Southern California Weather Force.  This thunderstorm watch can be viewed by clicking here.  Activity from that area will drive southward through the evening and even the night.  This will go along the CO River, hitting Laughlin and Bullhead City as well.  This is your best chance so far to see something this far northwest in the forecast area.  Large hail and damaging winds are possible with any of these cells.
The map In this article shows the severe storm locations for today/tonight, the yellow is where outflow winds would be felt.  They don't necessarily have to be damaging, just outflow winds from storms.  Example being overnight tonight the Southern Arizona zones to Southwest state would see outflow winds from the Southeast Arizona Storms and Flagstaff would see outflow from the Prescott Storms and so on.  Phoenix is in it, but you will not see anywhere near what happened the last couple of days.  For the most part, those areas get a break in the activity today/tonight.
As stated in the July 5th Article (Click here to read), the middle to end part of the July 8th through 15th window would be the main event in terms of widespread rain and storms for the metros.  I issued the Flood Watch for this event, a window of July 14th through the 16th.  That can be viewed by clicking here.  So that's it, for the best lead-time and accuracy in Arizona, stay tuned to Arizona Weather Force whether it be on social media or the e-mail alert system for your zones, below.
These maps are the zoom-in maps of the map in this article, and they are clickable – Zone 1 is NW AZ, 2 is NE AZ, 3 is SW AZ including Phoenix, and 4 is SE AZ including Tucson.
---
Join The Main Arizona Weather Force Facebook Group (50 percent delivery time) – You can join the main AZWF page as well through that group.
Click Here To Join The Page Today!
---
NEW FLAT RATE TIER PROGRAM – GET CUSTOM EMAIL WEATHER ALERTS IN YOUR AREA AND ENTER THE MEMBER SECTION ON THE SITE:  Summer 2021 rates – If you get in after June 1st it is only $10, if after July 1st only $6. If after August 1st only $3 to finish off the Summer Quarterly Tier.  Fall, Winter, and Spring will have their own tiers.
Both Southern California Weather Force and Arizona Weather Force have a cheap Summer 2021 discount to supercharge this service you already get on social media for free.  If you do not want to miss any articles this season because social media does not show you for hours or even days (common) and want to get custom email alerts such as thunderstorm, severe thunderstorm, flood, heat, or tornado alerts along with a controllable member section model for each during the events in YOUR area, sign-up for the premium member package, which is only $10 for the Summer.   Read below for details on how to join this offer.
---
REMEMBER… your continued want for this service is what keeps the server running and paid for.  Thanks for your help!
---
ARIZONA WEATHER FORCE – Click here to Join Arizona Weather Force's package