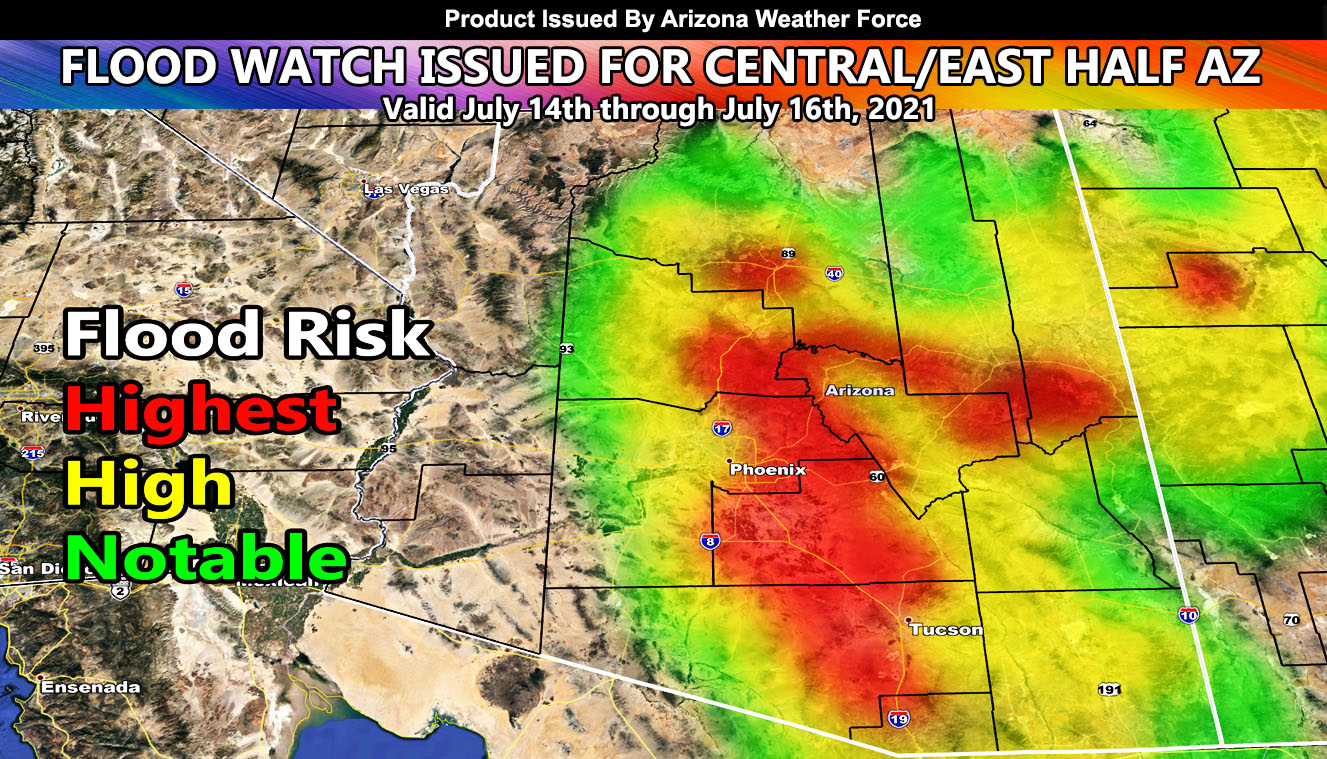 Arizona Weather Force has now officially issued the Flood Watch Alert effective July 14th through 16th.  As stated in the July 5th Article, the period towards the end of the 8-15 window would be the strongest.  This isn't a hit-and-miss event at all.  This is the real deal with widespread rainfall and storms across the flood watch areas, which does include all metros.  Ladies and Gentlemen Welcome to the Arizona Monsoon so read on for details …
First of all, this does not include the Severe Thunderstorm Watch issued here at Arizona Weather Force for today, Saturday, July 10th, 2021.  You can view that by clicking here if you missed it.  This furthermore does not include Sunday's Southeast Arizona Damaging Storm Event for July 11, 2021.  You can view that by clicking here.  Now for the forecast…
Everything is going to schedule per the initial July 5th article (click here to read).  Some of you are not getting a drop, some damaging winds, and dust storms, and some ransacked.   The ridge migrating directly over Southern California on July 14th will allow for multiple easterly waves to develop on the eastern side of it.  These will cause extreme lifting conditions over a widespread area for the Central and Eastern half of Arizona.  This does not include you in the Western areas or Colorado River Valley zones though.  This is when Phoenix and Tucson will get their higher rainfall totals for the month of July, as I promised.  Widespread precipitation is expected to develop between this period, July 14th and 16th.
The Arizona Weather Force Flood Risk Model I developed for other areas of the country over at the National Weather Force does work in this local area and is pegging high flood risk values in all metro areas.  You can see the map in this article and compare your location for it.
So that is it… prepare for the monsoon to ramp up during that period.  After that period however we do briefly return to the higher terrain storm events, but we will see more metro flood alerts before this month is over.
---
Join The Main Arizona Weather Force Facebook Group (50 percent delivery time) – You can join the main AZWF page as well through that group.
Click Here To Join The Page Today!
---
NEW FLAT RATE TIER PROGRAM – GET CUSTOM EMAIL WEATHER ALERTS IN YOUR AREA AND ENTER THE MEMBER SECTION ON THE SITE:  Summer 2021 rates – If you get in after June 1st it is only $10, if after July 1st only $6. If after August 1st only $3 to finish off the Summer Quarterly Tier.  Fall, Winter, and Spring will have their own tiers.
Both Southern California Weather Force and Arizona Weather Force have a cheap Summer 2021 discount to supercharge this service you already get on social media for free.  If you do not want to miss any articles this season because social media does not show you for hours or even days (common) and want to get custom email alerts such as thunderstorm, severe thunderstorm, flood, heat, or tornado alerts along with a controllable member section model for each during the events in YOUR area, sign-up for the premium member package, which is only $10 for the Summer.   Read below for details on how to join this offer.
---
REMEMBER… your continued want for this service is what keeps the server running and paid for.  Thanks for your help!
---
ARIZONA WEATHER FORCE – Click here to Join Arizona Weather Force's package