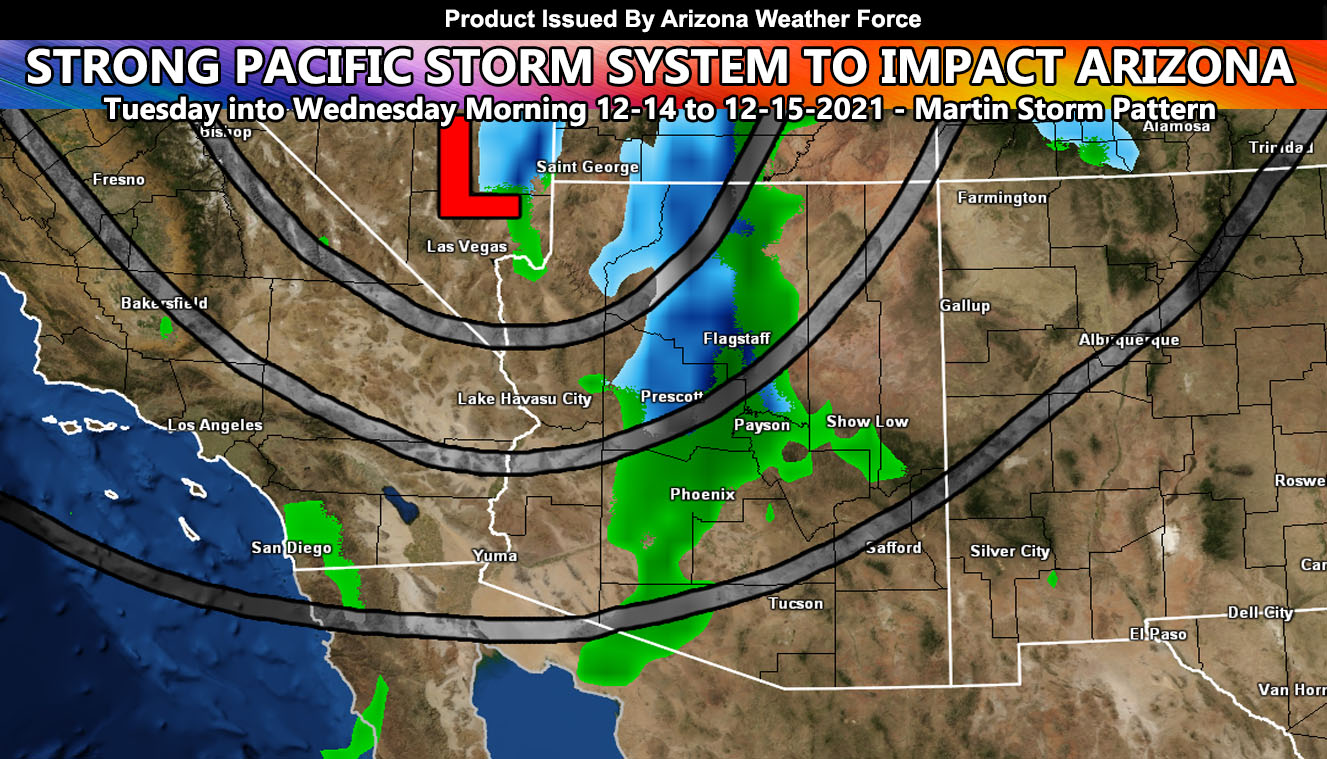 A Gulf of Alaska storm system will drop into Arizona on Tuesday.  Southern California Weather Force's Major Pacific Storm Hunter will transform into a non-name across Arizona on Tuesday into Tuesday night.  Mountain snow is likely with it and heavy rain at times, possibly even a chance of severe weather so to get an idea who would get what, read on as this storm is part of the Martin Storm Pattern of December 2021.
Back on December 4th an article was released here at Arizona Weather Force (Click here) of a storm pattern that would show up the week of December 13th.  Such a pattern has arrived, the Martin Storm Pattern of December 2021.  Furthermore, the December 2021 forecast released last month clearly indicated something like this would hit, and so it will be.
This system will bring some rainfall to the Tucson, East Maricopa County, Pinal, and Gila County areas as early as Tuesday morning out ahead of the main front.  The main front is expected to move into Western Arizona later Tuesday evening after sunset and continue east through most of the state from there.  Yuma, I'm sorry to say that the Riverside and San Diego Mountains of Southern California will prevent you from being in any of this really.  As per the last article outlining the pattern, you never were in this to begin with.  The focus was the Mogollon Rim and parts of the Phoenix and Tucson metro areas, mostly areas near the foothill/mountain slope zones.
In addition to the mountain snow, which the snow-level starts at 7,000 FT and then lowers through the 4,000 FT mark overnight on Tuesday, most of the snow will fall above 5,000 FT with a chance of it falling below that toward the end of the frontal zone before Wednesday morning comes.  With this storm, wind gusts will be high along and ahead of the front.  We may see some trees and power-lines down in the metro areas given the numbers I see here.  Not long ago, in November a couple years ago, a frontal zone similar to this one brought small tornado chances to the region, mainly near the Maricopa County areas.  This same low-level shear without the lightning show looks possible so I would not be surprised if a small tornado scenario hits the region overnight on Tuesday.
Thunderstorms will be confined to the northern half of the state where the best instability dynamics will remain.
SHORT RANGE:  FINAL FORECAST numbers will be given on Tuesday before the system hits.  Just remember, heavy mountain snow, flooding rains at times, damaging frontal zone winds, and a small tornado scenario as you read from above –
A Martin Storm Pattern means that the pattern was predicted before apps or government/private sources, and since my last name is Martin, like a person who discovered a comet, it is only fair this coming pattern is the Martin Storm Pattern of December 2021.  There will be MANY Martin Storm Patterns due to my ability to go longer range in weather.
LONG RANGE:  With the ridge shoved west to north of Hawaii, the door remains open for storm after storm through the end of the month for the region so stay tuned for updates …
---
FORECAST OUTLOOK TO COME:  This is only a general outlook.  My work will contain micro-climate alerts and images for snow, rain, wind etc as the events near.  As long as you continue to remain checking wherever you do to find the latest you will not be out of the loop.   You also have the option to join the member section where you can have a GPS option for all my models when events are in progress.  You also get these articles AND my micro-climate emails delivered to you for the season you sign-up for along with your own control panel to pick the zones you wish to receive from.
If you are interested or were a member for Winter 2021 then CLICK HERE TO READ HOW TO JOIN
If you are NOT receiving the e-mails and are a full member, your account is either expired or you need to troubleshoot.  To troubleshoot, here is the link to get situated.
---
This was a follow-up to the following articles – You can read them and see how this forecast is evolving from Day 1.
November 29, 2021
December 2021 Weather Pattern Forecast Outlook For Southern California; December Arctic Blasts and Storms
December 4, 2021
Weather Changes Coming; Martin Storm Pattern For December 2021 Begins This Week Across The Southwest United States; First Details
---
NOTE:  You also get e-mailed alerts/articles because if you do not want to miss my social media posts, and/or I issue a product not on my social media accounts, being a supporting website member is the way to go.  You get your own control panel with hundreds of zones to choose from to receive my custom alerts from.  Click here if you are interested in reading more.  
---
MAIN WEBSITE:  Don't forget.  If you hear rain or anything is coming to the area.  BOOKMARK THE MAIN WEBSITE BY CLICKING HERE.  The stream has the latest alert links, a map of alerts and where, and articles.  That is 100% free to view.  There should be no reason you shouldn't be informed.
As always, stay tuned to Arizona Weather Force for official forecasts and updates on weather across Arizona and if it says 'like page' below, hit the button and get future updates.  If it says liked, don't hit it because that's unfollowing and you won't get updates at AZWF page on your feed