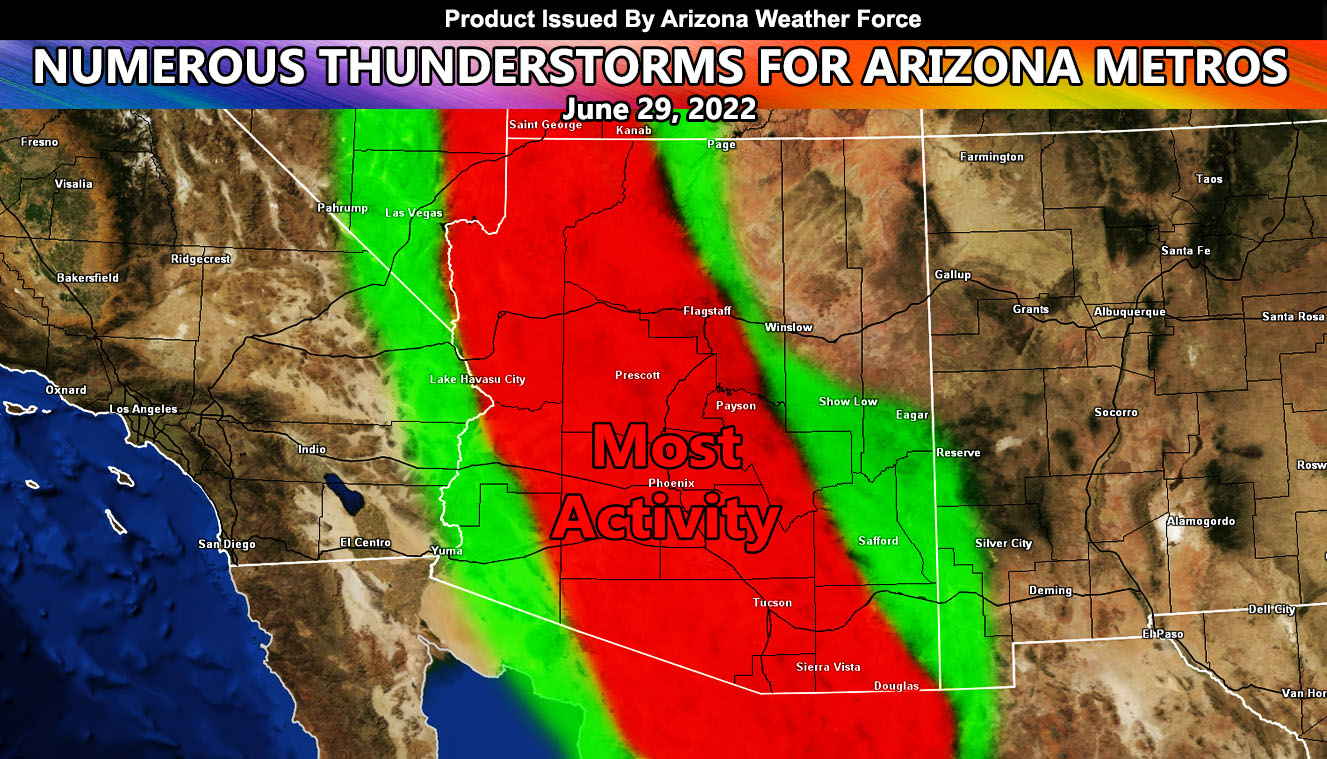 Arizona Weather Force has issued a Special Weather Statement effective Wednesday June 29th, 2022 for all major Arizona Metro zones as an increase in monsoon moisture and upper lift moves through the region, providing numerous thunderstorms so read on for details …
Join the Facebook Page for Further Updates If You Have Not Yet!
ARIZONA WEATHER FORCE MAIN:
Today's events have two thunderstorm watch focus spots.  Click here to read those.  However, for your Wednesday there will be numerous thunderstorms forming in all metro areas, including Flagstaff, Phoenix, and Tucson, giving hail, damaging winds, torrential downpours and the most active day of the week for storms.
Storm coverage will also aim at the rare Bullhead City areas, including Hoover Dam to Havasu/Parker.
The weakest spots will be Yuma proper and Winslow's forecast zones.
Updates will be given during the later morning along with the final alerts across the alert system so stay tuned to Arizona Weather Force …
---
This was a follow-up to the following articles – You can read them and see how this forecast is evolving from Day 1.
June 19, 2022
The Big Pull: Strong Surge of Monsoon Moisture To Affect All Arizona Metros This Coming Week; Daily Details
June 1, 2022
FINAL MONSOON FORECAST: Southwestern United States Monsoon Forecast Finalized as Stronger Than Normal; FREE Memberships Now Open
---
Want these delivered to your e-mail and also the many other alerts for your area that area custom forecast for that you won't see elsewhere?  Sign-up for your free community paid for memberships for this season by going to this link – follow the terms of service directions as well –  – https://arizonaweatherforce.com/?/register/BKNmp3
TWITTER:  Join the AZWF Twitter For Articles By Clicking Here