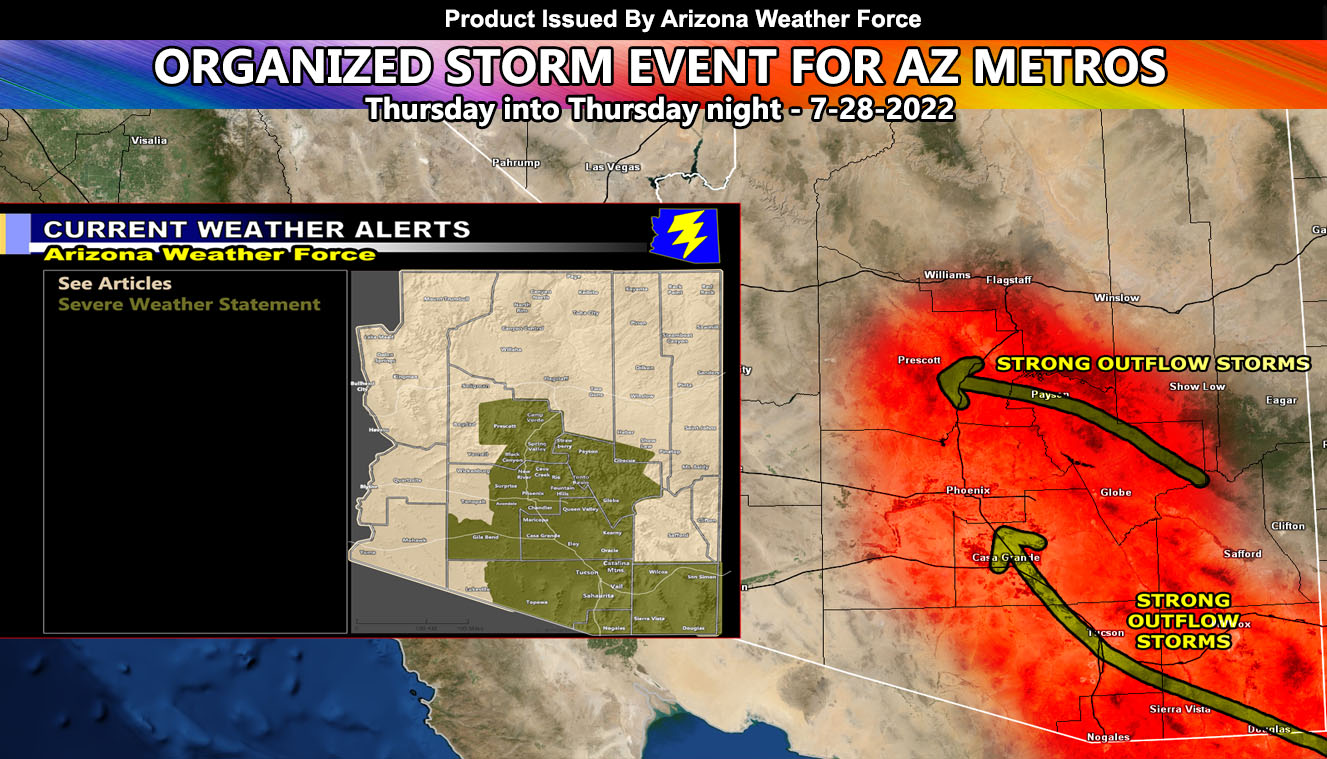 Arizona Weather Force has issued a Severe Weather Statement effective now for Thursday into Thursday night from Southeast Arizona, up through Interstate 10 to the main metro areas and further north into the Prescott/Payson forecast zones as an organized easterly wave has been spotted so read on for details …
Join the Facebook Page for Further Updates If You Have Not Yet!
ARIZONA WEATHER FORCE MAIN:
Lately Arizona has been getting off and on thunderstorm activity in-which anyone can see them.  There has been no real organized easterly wave or upper dynamic to speak of and forecasts have been pretty vague.  This should easily change by tomorrow (Thursday) as an easterly wave comes out of Mexico and across Cochise County in the morning hours.  This will keep moving northwest through Tucson with severe storms moving across that area, and then the outflow and storms developing along that boundary will continue northwest along I-10 through Pinal County and eventually into the Phoenix forecast zones.
At the same time, thunderstorms erupting in the Eastern Mogollon Rim areas will move westward along the rim communities of Payson/Star Valley and eventually through Prescott later in the night with the same dynamic in the area.  There is a very strong likelihood that Prescott's forecast zone will hold onto the activity even through the later night hours.
With all this, all modes of severe weather will be possible, given hail, strong/damaging winds, isolated tornado risk, and torrential downpours leading to flash flooding.
A Severe Weather Statement is issued here at Arizona Weather Force when conditions are favorable for severe thunderstorm development and the second to final step to issuing the final severe storm alert in the next 18-24 hour period, which gives you enough time to prepare for the event.
If you have not signed up for the community e-mail alert system where you can pick what areas to receive the micro-climate alerts and these articles from, sign-up below.
Want these delivered to your e-mail and also the many other alerts for your area that area custom forecast for that you won't see elsewhere?  Sign-up for your free community paid for memberships for this season by going to this link – follow the terms of service directions as well –  – https://arizonaweatherforce.com/?/register/BKNmp3
TWITTER:  Join the AZWF Twitter For Articles By Clicking Here
---
This was a follow-up to the following articles – You can read them and see how this forecast is evolving from Day 1.
July 19, 2022
Long Range Weather Advisory Issued: Arizona Monsoon to Highly Increase July 23rd through End Month; Model Inside
July 18, 2022
WARNING: Hurricane Estelle to Enhance Arizona Monsoon with Major Increase in Storms After July 23rd
June 1, 2022
FINAL MONSOON FORECAST: Southwestern United States Monsoon Forecast Finalized as Stronger Than Normal; FREE Memberships Now Open