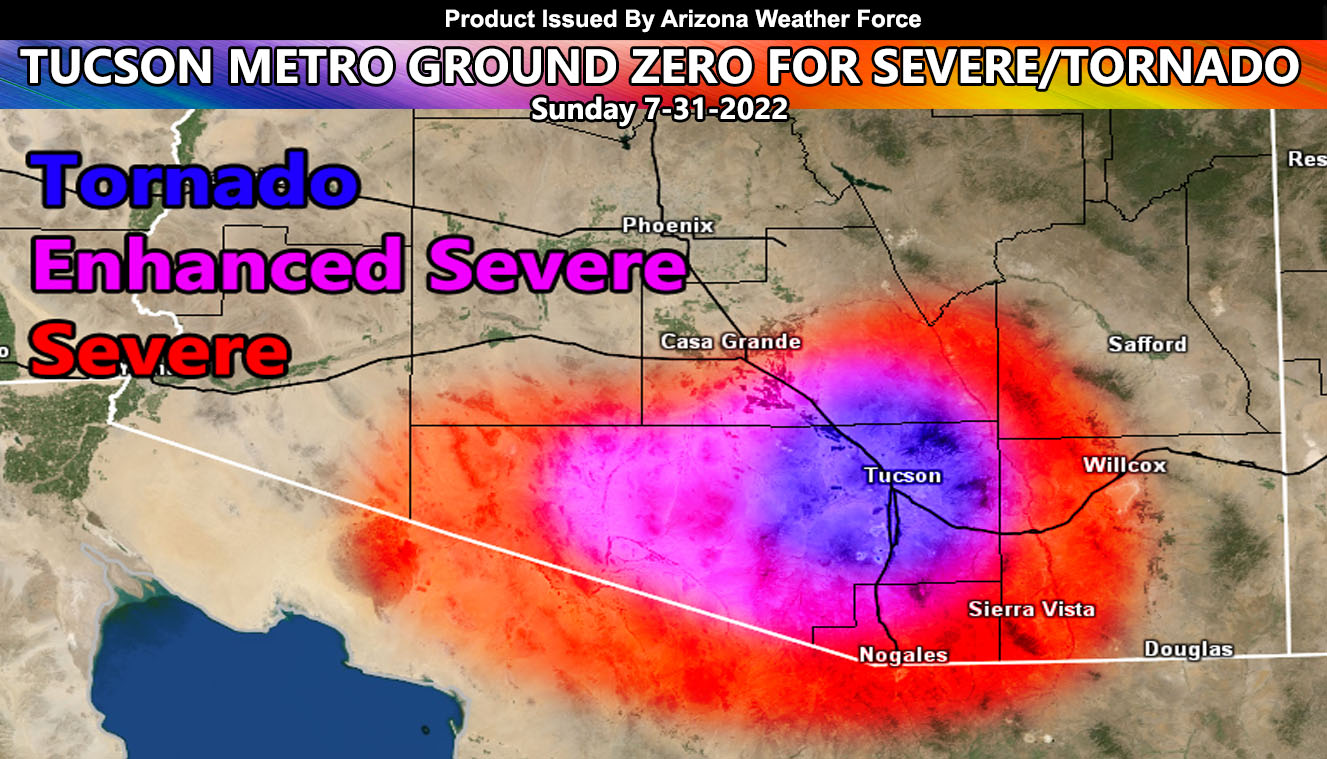 Arizona Weather Force has issued an Enhanced Severe Weather Statement effective Sunday July 30, 2022 for the Tucson Metro area for severe thunderstorms contain large hail and the risk for tornadoes so read on for details …
Join the Facebook Page for Further Updates If You Have Not Yet!
ARIZONA WEATHER FORCE MAIN:
First of all ,today looked like an appetizer for the metro area.  Sure, you got a severe thunderstorm, but the base was medium in height.  This next one will be different for your Sunday.  This next one has low-level moisture with drier air above the 18,000 foot mark.  This is telling me that with the dry air above and the moisture below, the combination of the two will make the air rise very quickly.  As such, due to clearing skies in the morning, instability levels will be extremely high.  With a quick southeast flow at all levels and a northwest flow in the low-levels, this causes low-level shear.  This should be enough for a tornado risk.
While a tornado watch may not be needed, this statement is for the large hail that will hit the metro.  Hail larger than 1″+ diameter will be likely with this system as well as flash flooding …
Continue to monitor Arizona Weather Force for any further updates …
Want these delivered to your e-mail and also the many other alerts for your area that area custom forecast for that you won't see elsewhere?  Sign-up for your free community paid for memberships for this season by going to this link – follow the terms of service directions as well –  – https://arizonaweatherforce.com/?/register/BKNmp3
TWITTER:  Join the AZWF Twitter For Articles By Clicking Here
---
This was a follow-up to the following articles – You can read them and see how this forecast is evolving from Day 1.
July 27, 2022
Severe Weather Statement: Organized Storm Activity Projected from Southeast State through Phoenix and into the Rim
July 19, 2022
Long Range Weather Advisory Issued: Arizona Monsoon to Highly Increase July 23rd through End Month; Model Inside
July 18, 2022
WARNING: Hurricane Estelle to Enhance Arizona Monsoon with Major Increase in Storms After July 23rd
June 1, 2022
FINAL MONSOON FORECAST: Southwestern United States Monsoon Forecast Finalized as Stronger Than Normal; FREE Memberships Now Open