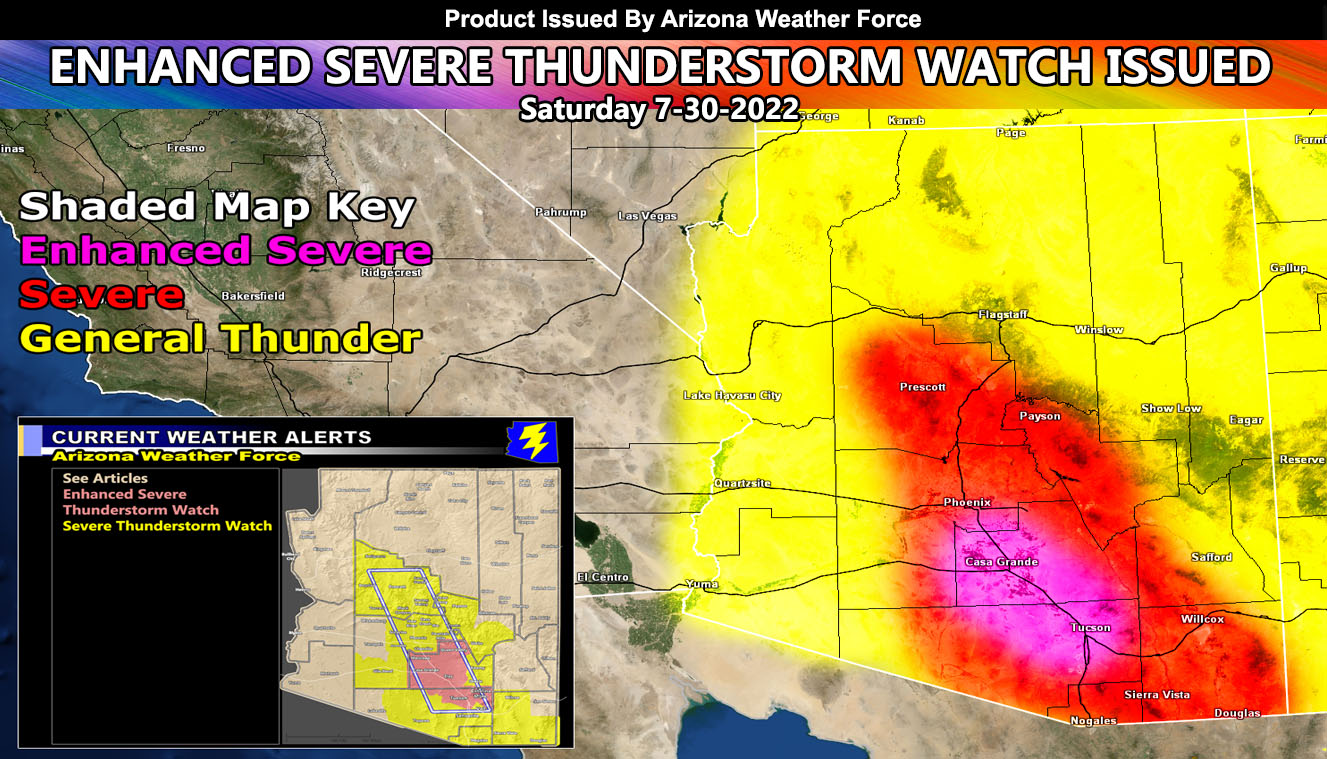 Arizona Weather Force has issued two focus spot alerts for the metro areas today from Tucson to Phoenix with Pinal County between, and those are the Enhanced Severe Thunderstorm Watch and Severe Thunderstorm Watch alerts as an easterly wave (focused upper dynamic) moves in so read on for details …
Join the Facebook Page for Further Updates If You Have Not Yet!
ARIZONA WEATHER FORCE MAIN:
First and foremost, don't ask what about the rim if you live there.  It is a given that this flow will pop storms off there so there is no issue there nor is it a 'main' focus spot.  You've been getting hit hard.  This is for the focus spots and the map above shows what areas will be the worst and what areas will have a non-focus spot general thunderstorm risk.
Two Severe Thunderstorm Watch alerts have been issued, one being the highest risk available here at Arizona Weather Force.  Current satellite images and webcams across Tucson show mostly clear skies.  This will focus on the Catalina / Rincon areas this afternoon and pop off severe storms through the Tucson forecast zone, which includes the entire Northwest half of Pima County.  These storms will move northwestward into Pinal County and eventually into the Maricopa County areas.  Interstate 10 from Tucson to Phoenix is the most populated zone in Arizona and this is what is targeted today per my monsoon model (not shown).
Areas in all alert zones can expect large hail and damaging winds, again the most damaging will be from Tucson's forecast area into the Western half of Pinal County.  The magenta shade in the map above is where the worst storms will be.
In addition to the damaging winds and large hail, expect major flooding with these cells.   All other zones outside of the magenta and red shade zones will be in general thunderstorm risks, meaning not a focus spot but thunderstorms are in the forecast near or above the shaded zone.
Storms will make it across all of Maricopa County from east to west, but on a weakening trend exiting the county into the La Paz County zones, a reason the watch ends near the edge of Western County but does include the entire metro area within.
Storms could continue into the night for the Severe Thunderstorm Watch zones, especially within the blue-boxed area as outflow boundaries bounce around and addition upper dynamics move in.
The image below is the official AZWF Watch Alert Map for this event and it is clickable –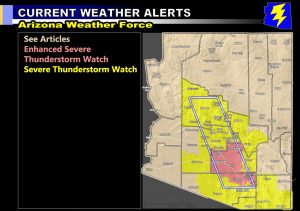 Want these delivered to your e-mail and also the many other alerts for your area that area custom forecast for that you won't see elsewhere?  Sign-up for your free community paid for memberships for this season by going to this link – follow the terms of service directions as well –  – https://arizonaweatherforce.com/?/register/BKNmp3
TWITTER:  Join the AZWF Twitter For Articles By Clicking Here
---
This was a follow-up to the following articles – You can read them and see how this forecast is evolving from Day 1.
July 27, 2022
Severe Weather Statement: Organized Storm Activity Projected from Southeast State through Phoenix and into the Rim
July 19, 2022
Long Range Weather Advisory Issued: Arizona Monsoon to Highly Increase July 23rd through End Month; Model Inside
July 18, 2022
WARNING: Hurricane Estelle to Enhance Arizona Monsoon with Major Increase in Storms After July 23rd
June 1, 2022
FINAL MONSOON FORECAST: Southwestern United States Monsoon Forecast Finalized as Stronger Than Normal; FREE Memberships Now Open